29 March 2021
Happy Easter from the team at QM Properties!
Wishing you and your families every happiness this Easter!
As we embark on a season of new beginnings in a post 'HomeBuilder' world, we would like to take the time to thank our QM community for their continuous support as we strive to ensure that the home buying process is as seamless as ever! We remain committed to creating great Australian communities across South-East Queensland; raising the benchmark for quality developments as well as setting new standards for sustainability, location and lifestyle.
All QM Home and Land Centres will be closed on Good Friday (2nd April), but will be open with regular hours during the remainder of the Easter long weekend.
So hop on in and visit our friendly Sales Agents this Easter!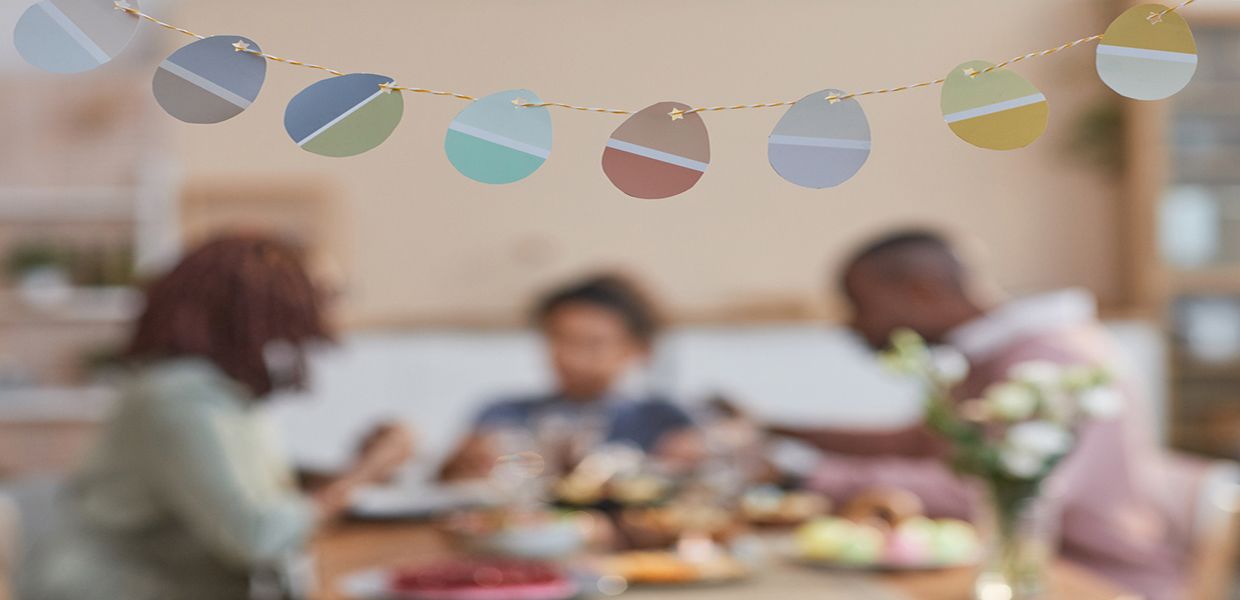 Welcome to the neighbourhood – What residents love about The Village at Jimboomba
This exciting new estate is selling super-fast! So, we've asked around to find out what all the fuss is about…
Ideally located just minutes from the bustling township of Jimboomba, public transport, local shopping centres and restaurants, as well as hotels, golf courses and medical facilities are all within a two kilometre radius of the estate. Just 40 minutes from Brisbane CBD and one hour from the Gold Coast, life at The Village at Jimboomba offers buyers a convenient lifestyle unlike any other. PLUS, the estate is home to Byron Park; a beautiful 1ha parkland featuring two shaded play structures, a half basketball court, exercise equipment and plenty of greenspace to kick and throw!
Allotments range in size from 450sqm to 700sqm and are available for under $250,000.
Find out how you can join this premium owner-occupier estate today and enquire online!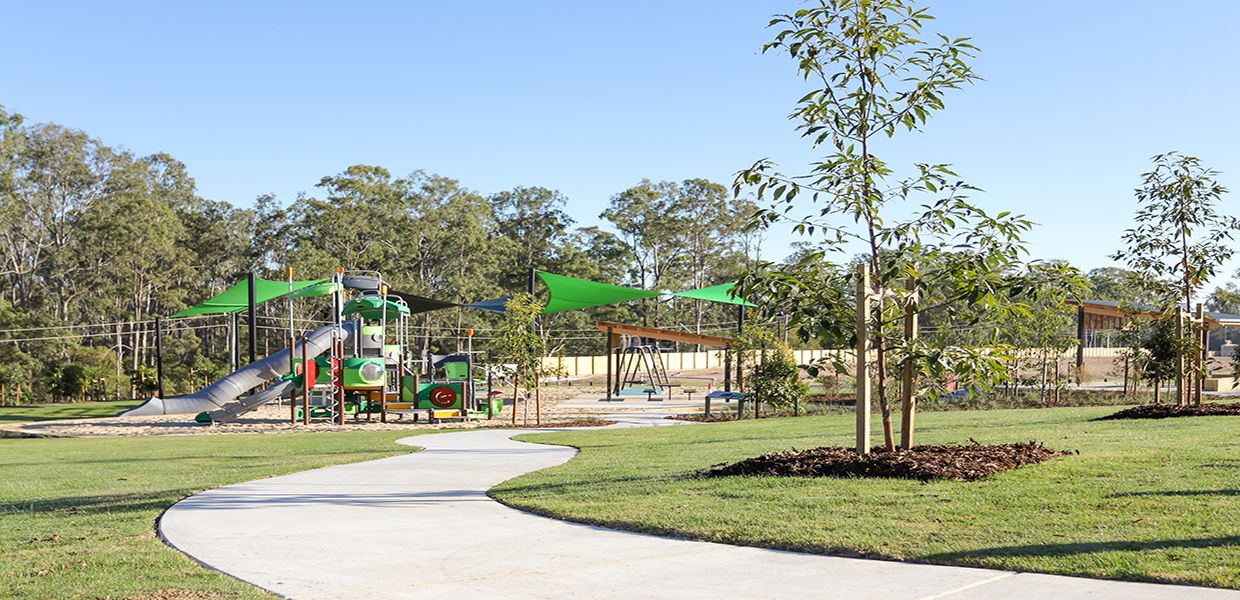 New stage coming soon to Central Springs
Savvy buyers look to call QM's ultimate Master Planned community home as stage 19 approaches the horizon for release!
Do you love the coast but can't leave the city? Central Springs will have you enjoying the best of both worlds with all the amenities you need right on your doorstep. Escape the hustle of everyday life and thrive under the balanced, active lifestyle fostered by Central Springs; with walking paths, bikeways and ample greenspaces connecting the neighbourhood.
Allotments in stage 19 range in size from 400sqm – 799sqm with stunning house and land packages available from just $399,000.
Do NOT miss this release! Register your interest now!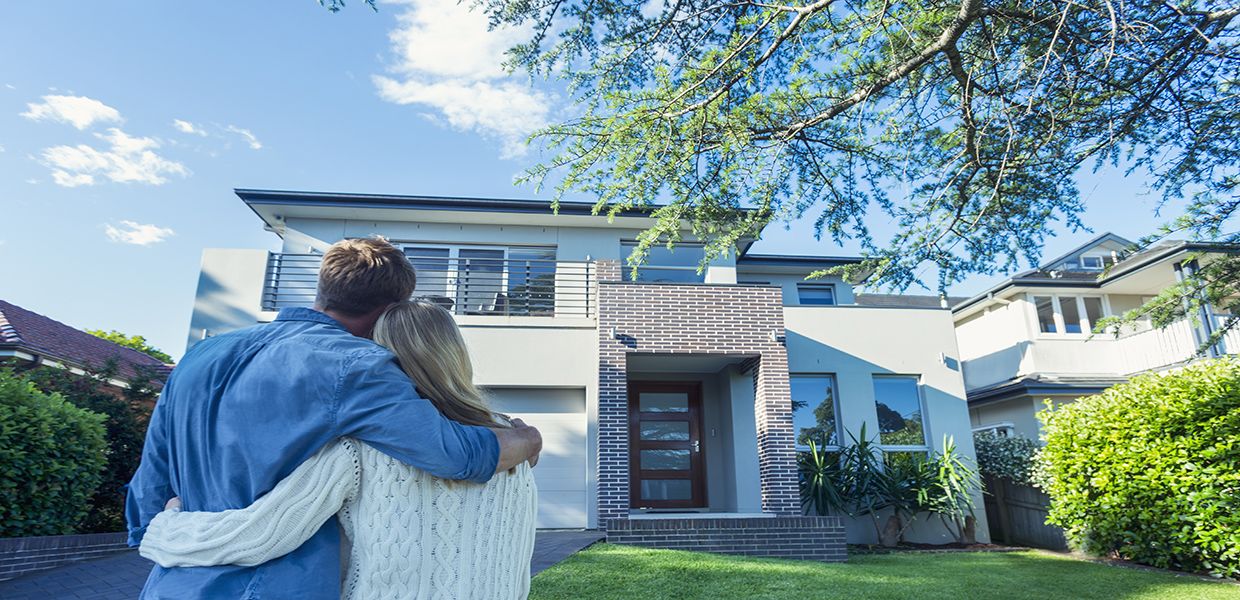 Booming western growth corridor estate selling fast
Join the prestigious community where lifestyle and modern design are seamlessly intertwined.
First time buyers, young families and downsizers can now own a brand-new home just 35 minutes from the Brisbane CBD at The Village at Bundamba's low maintenance, boutique housing estate. Developed in a strategic location close to major local amenities and transport hubs, residents will want for nothing at The Village at Bundamba with everything families need to live, work and play within easy walking or driving distance.
Registered land now selling! We have a wide range of centrally positioned, ready to build on lots ranging in size from 365sqm to 639sqm and priced from as little as $199,000.
$1,000 secures your block today! Head to our website to find out more!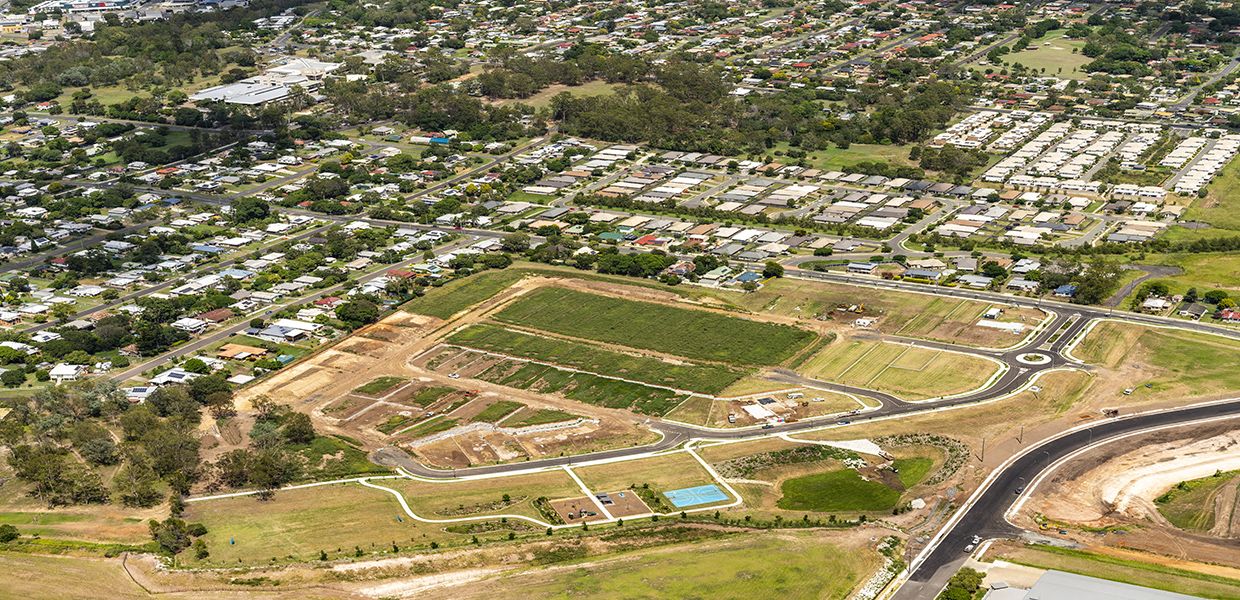 Large lots now selling at Jimboomba Woods
Are you dreaming of a tree-change? This exclusive acreage estate redefines country living and is an opportunity not to be missed!
Set on 1,200 acres of former cattle grazing country, Jimboomba Woods provides an idyllic setting for your dream home. This rare acreage release features 9 near-level or softly rolling lots with breathtaking views. From just $525,000, residents can build their dream home with all the space and privacy they'll ever need.
Ranging in size from 1.9ha to 19.5 ha, with access to excellent local amenities including shopping centres, restaurants, and child care centres, as well as medical and educational facilities, everything is harmonious when living at Jimboomba Woods.
Find out how you can enjoy the fresh air, extra space and unique sense of community that is Jimboomba Woods and enquire today!
Check out our best deals on home packages and land in our estates this month: 
The Village at Bundamba – Brand new estate registered Land selling now – Residential land from $199,000.00
Central Springs – House and Land packages available from $399,000!
Lake Botanica – Prestige Acreage estate Lake Botanica – central to Caboolture and handy to all amenities. Lot 26 Arenga Court – I.57ha (4 acres) – in Stage 2 cannot be further subdivided but will be selectively cleared – $499,000
The Village at Bundamba – Registered Land Now Selling. $1000 to secure your block at the brand-new Village at Bundamba.
Meadows at Plainland – 4000sqm+ elevated blocks with spectacular views from $235,000. Westside's only Acreage Display Village Now Open!
The Village at Bundamba – Booming Western Growth Corridor Selling Fast
The Fairways – 4 bed, 2 bath, 2 car garage HLP on 3000m2 for $440,000.
The Village at Bundamba – $30,000 in Government Grants! T.A.P. Terms and Conditions Apply.
Mahoney's Pocket North  – Master Builders' Acreage Display Village – NOW OPEN 7 DAYS!
Chambers Green Estate – Predominantly Owner Occupier family-orientated community development with level 450m2 to 600m2 homesites from $225,000. BUY NOW PAY LATER! Only $1000 initial deposit will secure today.
Central Springs  – Stage 19 soon to be released with lots from 400m2 to 799m2 available.
Elwood Rise – New 4-bed colonial home/acreage/package from $555,000.
The Village at Bundamba – Fruition Homes Building now! Inspect today by appointment only
Meadows at Plainland – Family Home, 2 bath, 2-car garage HLP on 1 acre for $415,000.
Central Springs  – Lots selling out fast! Register your interest now!!!
The Village at Bundamba – Centrally positioned Large elevated lots 365m2 to 639m2.
The Fairways – 3000sqm acreage blocks starting from just $239,000.
Chambers Green Estate – 4 bedroom family house and land package with exclusive quality inclusions – move in price $453,,658 which is full turn key and even includes driveway and landscaping.
The Village at Bundamba – Investment packages from – $385,000 by Local Builder
Elwood Rise (D'Aguilar) – New stage now selling. 3000 sqm to 3590 sqm from $355,000.
The Village at Bundamba – Why rent! From $356 per week repays – 4 Bedroom Home with full turnkey finish. Lending Terms and Conditions Apply. T.A.P.
Mahoney's Pocket North – STAGE 4 Hilltop Acreage NOW SELLING!
The Village at Jimboomba – Large Lots available from $216,500.
Subscribe below to be the first to know each month!